0 comments
Thursday, July 30, 2009

A couple of very good reports going over today's events. The first is from Britain's Channel 4 News, filed by Lindsey Hilsum.
The second one is a BBC report, combining amateur footage with film from someone in country with professional equipment, click to see it here.
I can't help but wonder what Friday will bring in Iran, especially after Thursday showed unrest all over the country, and not only in Tehran. Since the first week after the election, there really has not been sustained opposition activity in the streets of Iran, only on special dates and anniversaries.
Was the 40th day since Neda was murdered just a single important day, or was it the start of something sustained, and ultimately bigger?
Labels: brutality, election, free speech, Iran, Neda, vote
posted at 9:43 PM

The demonstrations appear to have not been limited to Tehran today. Here are two clips filmed in Isfahan, which is several hundred miles south of the capital.
It's already 0200 Friday in Iran, not sure how much more there will be today.
Labels: election, free speech, Iran, vote
posted at 2:21 PM

Very clean video from today's protests at the Behesht-e-Zahra cemetery:
As a point of reference, the location of the cemetery:
View Larger Map
Labels: brutality, election, free speech, Iran, Neda, vote
posted at 1:03 PM

More video:
A map of the general area:
View Larger Map
Labels: election, free speech, Iran, vote
posted at 10:54 AM

Video from Behesht-e-Zahra cemetery
Newly uploaded video from Behesht-e-Zahra cemetery in Tehran:
That is

a lot

of people, several thousand at least.
Labels: election, free speech, Iran, vote
posted at 10:01 AM


New video of passengers on a commuter bus, chanting opposition slogans:
I find it very interesting how many passengers appear to have cameras and phones with video capability, and especially by what a fine time the riders appear to be having.
It's a nice moment in an atmosphere that has been very ugly at times.
Labels: election, free speech, Iran, vote
posted at 9:50 AM

PressTV, Iran's state-supported TV channel, is actually reporting on the protests going on in country today. The demonstrations weren't the lead story, but hey, the fact that they are reporting it at all is progress.
Police forces on Thursday used tear gas to break up supporters of defeated presidential candidates Mehdi Karroubi and Mir-Hossein Mousavi who had gathered at the Behesht-e Zahra cemetery to commemorate the lives lost in recent unrest in the country.
Elsewhere in the central street of Abbas Abad in the Iranian capital, witnesses said protesters set garbage bins on fire as the security forces tried to prevent them from gathering for the banned memorial ceremony.
Don't hold your breath waiting for them to report accurate vote counts, though...
Labels: election, free speech, Iran, vote
posted at 9:39 AM

Violence against protestors
Newly uploaded video from Tehran shows police attacking demonstrators in the streets. Noises that sounds like gunshots are also audible:
Reuters/Iran is also reporting via Twitter that police are arresting Mousavi backers in central Tehran, in addition to smashing windows, and firing tear gas.
Labels: brutality, election, free speech, Iran, vote
posted at 9:09 AM

Opposition leader Mehdi Karroubi appears to be in the middle of this demonstration, look for the man in the white turban around 21 seconds into the clip:
I cannot tell where this protest is taking place, unfortunately.
Labels: election, free speech, Iran, vote
posted at 8:53 AM

Newly uploaded video of what looks to be a sizable crowd on Vali Asr Boulevard in Tehran today:
It sounds like one of the words they're chanting is "Mousavi," but I'm not certain.
Labels: election, free speech, Iran, vote
posted at 8:37 AM

Witnesses in Iran have told Reuters that a couple of thousand protesters have gathered in central Tehran near the Grand Mosala, a prayer center where huge crowds are able to gather.
"There is a lot of police and at least 2,000 people have gathered outside Mosala," the witness said.
Opposition leaders had asked for, but were denied permission to hold a mourning rally at this location today.
Labels: election, free speech, Iran, vote
posted at 8:03 AM

Members of his family were at the cemetery today.
Asa was abducted from a dormitory at Tehran University on June 15th, and his body turned up 10 days later, bearing signs of torture.
Labels: brutality, election, free speech, Iran, vote
posted at 7:52 AM

The Los Angeles Times

is reporting that "thousands, maybe tens of thousands of mourners, many of them black-clad young women carrying roses, overwhelmed security forces today at Tehran's largest cemetery."
Uniformed security forces initially clashed violently today with some of the mourners, supporters and leaders of the opposition, who were there to protest and grieve for those killed in recent unrest. Unsuccessful presidential candidates Mir-Hossein Mousavi and Mehdi Karroubi attempted to attend the graveside ceremony marking the religiously significant 40th day since the death of Agha-Soltan and others killed in the fighting.
"Oh, Hossein! Mir-Hossein," the mourners chanted in support of him.
According to one witness, who asked not to be identified for fear of reprisal, Mousavi stepped out of his car only to be surrounded by police, who forced him back into his vehicle and out of the cemetery. At first, mourners were confronted by security forces, who struck some with batons and made arrests in an attempt to bar them from gathering at Tehran's Behesht Zahra cemetery, the country's largest. The tree-lined streets leading to the graves of Agha-Soltan and others were blocked by riot police, the witness said.
The witness said protesters identified and violently confronted several plainclothes Basiji militiamen. "Police, police, support us," the crowd chanted. "God is great!" But as people poured out of the nearby subway station and taxis along the highway, security forces retreated. One witness said police released detainees and began cooperating with the mourners, directing them to Section 257 of the cemetery, where Agha-Soltan and others were buried.
Definitely an encouraging sign, if the police have lost their enthusiasm for defending this illegal regime, anything is possible.
Labels: brutality, election, free speech, Iran, Neda, vote
posted at 7:37 AM

Lara Setrakian, who is in Dubai for ABC News, Tweets that more Iranian filmmakers have been arrested:
Source: filmmakers Jafar Panahi and Mahnaz Mohammadi were arrested today. Mahnaz is a wonderful, passionate, independent woman
#iranelection
Labels: brutality, election, free speech, Iran, vote
posted at 7:33 AM

Video appears to show protesters at Behesht-e-Zahra cemetery in Tehran.
It looks like a pretty substantial crowd to me.
Labels: brutality, election, free speech, Iran, Neda, vote
posted at 7:27 AM

Interview w/Neda's mother
Today, the BBC published an interview with the mother of murdered Iranian woman, Neda Agha-Soltan.
The audio is here, and an English transcript is available here.
I have had no contact with Mr Mousavi. But Mr Karroubi… came to our house on Monday night. It's important for me that he visited us. He was very supportive and I found that comforting. Our conversation was published in Etemad, which is Mr Karroubi's own newspaper. He said she was innocent… she was a martyr. And he said her killer must be found. [...]

Yes. I went to visit the mothers of Sohrab Arabi and Ashkan Sohrab… they were two teenagers who were killed. And then both the mothers also came to my house too. [...]

Emotionally we are all broken. What can we say to each other? Our loved ones were too young to die… what can three mothers in the same situation say to each other? All we can do is just sit there and cry.
She's waiting for her daughter's killer to be brought to justice.
Labels: brutality, election, free speech, Iran, Neda, vote
posted at 7:20 AM

Jim Sciutto of ABC News, reports via Twitter, that the mother of Neda Agha-Soltan was asked by the government not to attend today's memorial for her daughter:
Neda's mother pressured not to attend: 'for reasons I can't say, I cannot attend the ceremony of my own daughter'
#iranelection
#neda
And this:
Crowds chanting 'death to the dictator', others saying 'Neda isn't dead, the regime is'
Labels: brutality, election, free speech, Iran, Neda, vote
posted at 7:12 AM

Mousavi was at the cemetery
Updating the earlier Reuter's report about mourners being arrested at the cemetery where Neda Agha-Soltan is buried, opposition candidate, Mir Hossein Mousavi was there, too, and was forced to leave.
Iranian police forced opposition leader Mirhossein Mousavi to leave a Tehran cemetery where hundreds of mourners had gathered to commemorate victims of the unrest that erupted after the June presidential election. "Police forced Mousavi to return to his car and leave the cemetery. Police are also warning mourners to leave the place or face the consequences," a witness told Reuters.
There is no report that he was detained by police.
Labels: brutality, election, free speech, Iran, Neda, vote
posted at 7:07 AM

Reuters is reporting that police in Iran have arrested mourners who had gathered at a cemetery in Tehran to honor some of the protesters who have dies since the election in June.
"Hundreds have gathered around Neda Agha-Soltan's grave to mourn her death and other victims' death ... police arrested some of them ... dozens of riot police also arrived and are trying to disperse the crowd," a witness told Reuters.
This 40th day promises to be busy...
Labels: brutality, election, free speech, Iran, Neda, vote
posted at 7:01 AM

0 comments


Wednesday, July 29, 2009
Those who have studied the 1979 revolution in Iran may recall that a large part of the push behind the demonstrations was the ongoing remembrances of dead protesters which occurred 40 days after they had died. In the Shiite religion, the 40th day after one's death is a time for an important mourning ritual.

Thursday will mark 40 days since Neda Agha-Soltan was murdered by Basij thugs working for the Khameini/Ahmadinejad government.
40 days.
No one has been charged, no one has been made to pay for the brutal death of an innocent Iranian citizen at the hands of the government.
Let us hope Thursday 30 July is an eventful day in Iran.
Labels: brutality, election, free speech, Iran, Neda, vote
posted at 12:29 AM

0 comments


Friday, July 24, 2009
The Little Tramp spoke these words in a completely different context in 1940, but they sure as hell make sense to Iranians in 2009.
Charlie Chaplin knew it, only the names change, dictators never do.
Labels: brut, election, free speech, Iran, vote
posted at 1:43 PM

0 comments


Tuesday, July 21, 2009
Iran's state-run Press TV reports that President Ahmadinejad has issued an order to implement a new law to give the government more control over the Internet. Sure, that sounds bad, but they have your best interests at heart.
Iran will put into effect a recently passed law which aims at reducing cybercrimes and providing surfers with more security in cyberspace. The law, which has been ratified by the Parliament (Majlis) and approved by the Guardian Council as well, stipulates punishments for specified illegal activities in cyberspace.
Under an article of the law pertinent to 'secret information' and 'invasion of privacy', for instance, an individual will be subject to punishment in the form of a fine or imprisonment if they release other individuals' private information without their approval in a smearing act.
According to article XXIV of the legislation, Internet Service Providers (ISP) are required to store all the data sent or received by each of their clients. ISPs may delete the data no sooner than 3 months after the expiry of each client's contract.
In defense of the law, Prosecutor General Qorban-Ali Dorri-Najafabadi said on Sunday that the law aims to protect the rights of the people and prevent violation of their privacy in cyberspace.
See? The clerics and the president are only thinking of your protection when they invade your privacy. This legislation only serves to prevent you from being ripped of by unscrupulous porn operations who might steal your credit card information when you decide to order a 6-hour DVD of hot full-burqa-on-burqa action.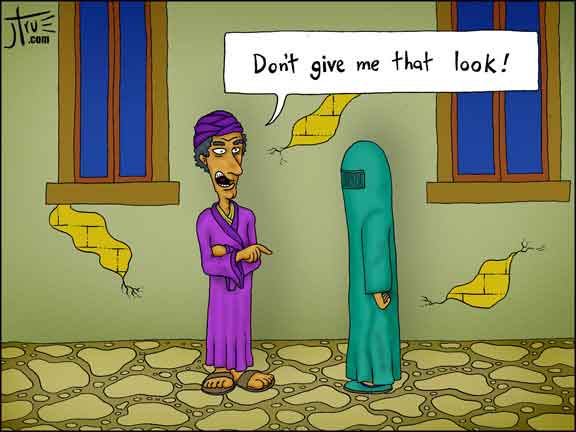 Iranians are smart, though. I don't think there's anything this government can come up with that savvy techies there won't find a path around.
Labels: election, free speech, Iran, vote
posted at 4:03 PM

Video shot earlier today of Basij thugs moving through crowds, believed to be near Haft-e Tir Square. There are also stills of the faces of some of these bastards.
Iran's government appears to be attempting to limit the use of communications again, and has been disrupting cell phone service, so video has been slow to make its way online.
Labels: brutality, election, free speech, Iran, vote
posted at 10:58 AM

Photo from today's protests
Radio Farda, a US-supported Farsi-language station, posted this on their website today.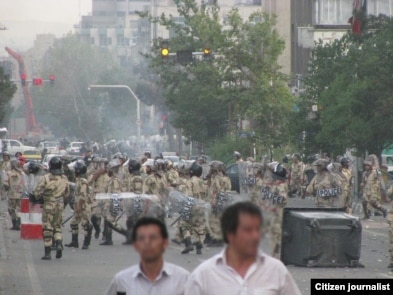 I cannot verify that this was taken today, but I don't have any specific reason to believe otherwise.
Labels: election, free speech, Iran, vote
posted at 10:49 AM

As predicted, new protests
Reuters is reporting that protesters in Tehran's Haft-e Tir square clashed with police today.
Iranian riot police clashed with hundreds of pro-reform protesters in central Tehran on Tuesday and detained dozens of demonstrators, a witness said, in the latest unrest over last month's disputed election. The witness said demonstrators were chanting slogans against President Mahmoud Ahmadinejad and the government, including: "Ahmadinejad — resign, resign" and "Death to dictators."

Police beating protesters who had gathered in Tehran's Haft-e Tir square in defiance of a ban on such demonstrations following the June 12 election, which the opposition says was rigged in favor of Ahmadinejad, the witness said. "Riot police are taking dozens of protesters into their cars and they are taking them away," the witness said.

"There are hundreds of riot police and plainclothes (security forces), beating people who gathered to support (opposition leader Mirhossein) Mousavi," the witness said.
Iranian blogger, Omid Habibinia, Tweeted today that thousands marched to the spot where Neda Agha-Soltan was murdered on June 20th:
Bassij attacked a group of women gather[e]d where Neda shot dead one month ago.
Gonna be a busy one today.
Labels: election, free speech, Iran, Neda, vote
posted at 10:40 AM

0 comments


Monday, July 20, 2009
Would we still choose to do this?
At 10:56 PM this evening, EDT, it will have been forty years since man first walked on the moon.
John Kennedy gave this speech at Rice University in September of 1962, and pledged to put a man on the moon before the end of the decade.
Less than seven years later, the United States achieved what many thought was impossible. We were motivated to do so.
Sometimes, I think about what great things that this country has achieved since then, and I'm sort of stuck. There have been some nice technological achievements, but I can't think of one thing that captures the imagination like the moon landing.
Right now, Congress is discussing how to provided health care for every citizen, just like they do in other less prosperous countries. It will not be easy.
Do we still possess the capacity to do something as big as this? Even if the taxes of some or all might need to be raised?
Do we still have the will to achieve anything truly great anymore?
Labels: America, health care
posted at 12:00 AM

0 comments


Saturday, July 18, 2009
Yesterday was another big day in Tehran, with a great deal of protest activity following the Rasfanjani speech at Tehran University. Thousands took to the streets to show solidarity against the Khameini/Ahmadinejad government.
Next Tuseday, July 21st, is the anniversary of the return to power of Mohammad Mosaddeg, after being relieved of his Prime Minister position by the Shah in 1952. He was reinstated after five days of massive protests in Iran.
Many of the pro-democracy activities that have occurred in Iran since the government crackdown have taken place on days which were anniversaries of other events. I think Tuesday is going to be another very active day in the streets of Tehran.
Labels: election, free speech, Iran, vote
posted at 10:20 AM

0 comments


Friday, July 17, 2009
Eyewitness accounts from Tehran
According to an Iranian man in his 30s:
I was at the main entrance to Tehran University (the landmark gateway on Enqelab) at 10 a.m. It was already packed as people had come even earlier than us. I didn't want to go inside because that entails a full body search and check-in of bags and cellphones.

The loudspeakers aired nohe-khani (a form of religious mourning song) for half an hour as today was the death anniversary of Mousa bin Jafar (the 7th Shiite Imam). During that time, the crowd was in constant flux, circulating to keep the security forces from moving to disperse us. Green wristbands and Vs were ubiquitous as usual. Slogans were bold and we chanted with impunity.

About ten minutes before Rafsanjani's sermon was due to start, teargas was shot into our midst. We dispersed but gathered again as soon as the fumes cleared up. To our surprise, they didn't shoot tear gas a second time. Generally, it seemed the police wanted to avoid clashing with us, perhaps because of our highly-visible location — or because of our numbers and our vehemence!

I left by 3:30 after the prayers. I saw no violence, but my friend heard gunshots on Valiasr Avenue on his way home at that hour.
A professor in his 60s tells what he saw:
I was outside the east gate of Tehran University on Qods St. (former Anatole France St.) at 11:30 am.

The crowd, amassed in all directions as far as the eye could see, was so thick and compact that security forces could do nothing but stand by passively on the sidelines. They were so docile that the crowd thanked them by chanting: "Police Forces, thank you!"

Unhindered, the crowd chanted an entire repertoire of slogans, including:

"Down with this people-fooling government!" (Marg bar in dolat-e mardom-farib)
"Coup d'etat government, step down!" (Dolat-e kudeta, estefa, estefa!)
"As long as it's Ahmadinejad, every day shall be thus!" (Ta Ahmadinejad-e, har rooz hamin basat-e!)
"Die Mojtaba, before you see the Leadership!" (Mojtaba bemiri, rahbari o nabini!) [in reference to Mojtaba Khamenei, the supreme leader's son]
"We are not chaff — we are the nation!" (Ma khashak nistim, mellat hastim!) [in ref. to Ahmadinejad labeling protesters 'chaff']
"Political prisoners must be freed!" (Zendani siasi, azad bayad gardad!)

Before Rafsanjani began his sermon, a chant addressed to him warned:

"If you maintain silence, you commit treason!" (Agar sokut koni, khaeni!)

During the overture speech to Rafsanjani's sermon made by Friday Prayer organiser Reza Taghavi, whenever Taghavi spoke praisingly of Khamenei (e.g., "The Supreme Leader upholds the law"), the crowd outside erupted in boos and chanted:

"Death to Liars!" (Marg bar dorugh-goo!)

A dozen or so people seated near the gate tried a few times to counter with pro-Khamenei slogans: "Until there's blood in our veins, Khamenei's our Leader!" (Ta rag dar khun-e mast, Khamenei rahbar-e mast!) but they were drowned out by a several-thousand-strong roar of "Get lost!" boos.

They carried placards depicting Mousavi as well as photographs of Sohrab and Neda. Hand-written signs of "Death to Russia!" were also seen (a new slogan slamming Russian support for Ahmadinejad). Another first was that there was a number of shahrestanis (people from provincial towns) among the crowd. One told me, "If it weren't for you Tehranis, the game would be lost!"
Labels: brutality, election, free speech, Iran, vote
posted at 12:37 PM

Some pictures, courtesy of the Mehr News Agency in Iran:
Labels: election, free speech, Iran, vote
posted at 11:35 AM

Some interesting items, culled from the Tehran Bureau website:
Reactions to Rafsanjani's speech in Iran:
A witness present inside the salon during the sermon said at one point when opposition supporters broke out into chants, Rafsanjani asked them to be quiet by saying, "Man az shoma behtar migam!" ("I am saying it better than you," meaning essentially, 'I'm saying the same thing you are, only I have a sanctioned microphone!")

A man over a loudspeaker yells "Death to America, death to Israel, death to England, death to infidels," and the crowd responds with "Death to Russia!"
A photo of Moussavi at the Rasfanjani speech today.
As news trickles out, the situation gets more intriguing by the hour.

Labels: brutality, election, free speech, Iran, vote
posted at 10:30 AM

Amnesty Int'l calls for Sadr release
Amnesty International has demanded the release of abducted Iranian women's rights activist, Shadi Sadr. From the document:
Shadi Sadr is the defense lawyer of Shiva Nazar Ahari, a human rights defender and member of the Committee of Human Rights Reporters, who was arrested at her home in Tehran on June 14, 2009, shortly after the presidential election, by security officials who searched her house and took away personal items. She is now believed to be held in Section 209 of Tehran's Evin Prison where Shadi Sadr, her lawyer, had not been able to gain access to her.
You may read the full press release here.
Labels: brutality, election, free speech, Iran, vote
posted at 9:56 AM

From demonstrations in Tehran today:
There is a great deal of content being uploaded, I'm not sure if the government has loosened restrictions, or if Iranians have figured out ways around the censorship.
Labels: election, free speech, Iran, vote
posted at 9:37 AM

Human rights activist and blogger, Fershteh Ghazi Tweeted about Shadi Sadr:
Shadi Sadr contacted her husband asking for the password to her phone. Apparently her phone's being checked.
When her husband asked "Where should I come to take care of this?" She's said "the usual place."
One assumes this means Evin Prison, but I can't say for sure.

Labels: brutality, election, free speech, Iran, vote
posted at 9:13 AM

Iranian lawyer, women's rights activist, and journalist, Shadi Sadr, was abducted today in Tehran. was beaten by plainclothes militiamen and taken away as she headed toward Tehran University for the Friday Prayers led by Ayatollah Ali Akbar Hashemi Rafsanjani.
Here is part of the report from meydann.com:
We were heading towards Keshavarz Blvd, not even reaching the middle of the boulevard, when someone approached me and said, "You're coming with me. The others go." Shadi and I were looking at him with surprise, and one of the motorists said to him, "Not that one, this one." They were dressed in civilian clothes (probably security forces) and went towards Shadi. Shadi was shaken up and taken by surprise. Suddenly she was then taken away and kept in a Peugeot car. Me and a friend started to yell, "Where are you taking her?!!" That's also when Shadi tried to struggle and started to cry for help, pounding the car door. My friend then tried to open the door, and we were pulling Shadi out but an official who was inside the car was grabbing onto her. He was pulling onto her in such a way that her manteau (overcoat) was coming off but one of my friends still held onto Shadi's hand and her blouse and pants that were once intact started to come off when caught in the car. At that time she escaped. The officials in civilian clothing and also me and my friend were running after her. It was then one of the officials from the opposite side attacked her and was pulling onto her scarf. Shadi was resisting his force when the scarf came undone. Shadi again escaped. This time two other people appeared unexpectedly, one of them carrying a spiral baton. They took Shadi and beat her violently while she continued to resist them. We weren't allowed to go towards her. By force they had taken her and put her in the car. The official manhandled Shadi and it was apparent that for them, her hejab wasn't even important!! When they brought her to the car, they didn't even give her the scarf back. The car turned around and sped away. It's true that no one, other than me and my friend did anything. Maybe if we were more in number, we wouldn't have let them take her.

Shadi wanted to give her bag to us when the motorist shouted from afar "Keep hold of her bag!" Everyone became shocked that they couldn't react. We have never seen an official order or identification from these paramilitary forces and we have no idea who they are.
No updates as to what may have become of her.
Labels: brutality, election, free speech, Iran, vote
posted at 9:04 AM

Reform cleric Mehdi Karroubi, who ran for president and has also contested the results, was roughed up by plainclothes officers as he tried to enter the prayer site where Rasfanjani gave his speech today.
Blogger Mehdi Saharkhiz, who works from outside Iran, Tweeted details about the assault from Karroubi's son:
passengers were also attacked and the blood was flowing like they were cut with a blade

Some plain cloths were around the car and 2 went on the top to damage the car

the leader of the plain cloth on the walki told that they are doing a great job while attacking Karoubi

In return some more plain cloths were chanting against Karoub
There is also this image of Karroubi, who is rather uncovered, as high-up clerics go.
Here is the Farsi-language report from Karroubi's website.
Labels: brutality, election, free speech, Iran, vote
posted at 8:53 AM

Protests at Interior Ministry
After Rasfanjani's speech at Tehran University this morning, crowds gathered outside of Iran's Interior Ministry.
More chants of "Marg bar Diktator!" are easily discerned.
Labels: election, free speech, Iran, vote
posted at 8:23 AM

Protesters can be heard chanting "Marg bar diktator (death to the dictator)" in many of the videos coming out of Iran, but they are also adding Russia into the mix.
I guess no one is very happy about Putin having Ahmadinejad come by for a sleepover after last month's sham of an election.
Labels: election, free speech, Iran, vote
posted at 8:17 AM

Video from Tehran 17 July

There are reports that Moussavi supporters in Tehran who were unable to get to the Rasfanjani speech, were chanting slogans in other parts of the city.
They had put up roadblocks to prevent traffic flow to that area and would force pedestrians to turn back. There was no violence where we were (east of the Uni), but people we met on the way back from other routes had teargas-reddened eyes and told us "they're beating people" and that crowds of protesters outside Friday Prayer grounds were "huge."
Since people couldn't break out into chants in front of the thug squads, they had to resort to codified slogans. "Marg bar Diktator" ("Death to the Dictator") alternated with "Marg bar Russiye" ("Death to Russia") — this was a sly jab at Ahmadinejad-Khamenei due to their alleged alliance with Russia in orchestrating the vote coup (Medvedev had promptly congratulated the fraudulent win and welcomed Ahmadinejad to a regional summit after the elections; Russia is widely believed to give behind-the-scenes support to Ahmadinejad's government, bypassing sanctions, selling arms, helping build the nuclear plant in Bushehr, etc.)
The day was scorching hot and I heard fellow Mousavites saying that just by being present on the streets, we oblige security forces to stand for hours in the hot sun in their heavy uniforms, helmets, vests, masks … the best revenge we can muster nonviolently!
Elsewhere, this was shot from near Tehran University, where Rasfanjani spoke:
Meanwhile, Basij are still attacking people with cameras:
Iranians are still getting blogs and video out in spite of this brutality.
Labels: brutality, election, free speech, Iran, vote
posted at 8:07 AM

UK Channel 4 video report
Analysis of today's events from Lindsey Hilsum, who is Channel 4's international editor.
A report about the speech from Channel 4's website talked about the demonstrators, and Rasfanjani's response:
Earlier the crowd inside the hall could be heard on live state radio chanting "Mousavi, Mousavi, we support you", interrupting Rafsanjani's sermon.
The chants died away after he quietened the crowd, urging them "not to contaminate the position and the sanctuary of Friday prayers by comments and slogans".
Labels: election, free speech, Iran, vote
posted at 8:00 AM

There is a season, spin, spin spin
Press TV, one of Iran's government-run satellite TV channels, is reporting Rasfanjani's speech this morning in Tehran as a call for unity in Iran:
Four weeks after the presidential election, Chairman of Iran's Expediency Council Ayatollah Hashemi-Rafsanjani calls for a national unity among the nation.

Addressing worshippers in Friday prayers, Ayatollah Akbar Hashemi Rafsanjani called on all Iranians to remain united to safeguard the Islamic Revolution.

"Today, we need unity more than ever. All must unite to stand against threats facing the country," Ayatollah Rafsanjani said, adding that the nation should make every effort to protect the achievements of the country.

The dignitary also said that a solution must be worked out to put an end to the recent political unrest in the country.

While stressing that all complaints by those who have questions about the election must be pursued through legal channels, Ayatollah Rafsanjani also said that the government should work to ease restraints on the press and urged the release of those arrested in in post-election incidents.
For being complete bastards, these guys are pretty good at their jobs sometimes. Still, this is pretty transparent.
Labels: election, free speech, Iran, vote
posted at 7:49 AM

More from Rasfanjani speech
The BBC is reporting that in his speech this morning at Tehran University, Former Iranian President Ali Akbar Rafsanjani asked for the release of all of the people detained since the protests began following the June 12 election.
"In the current situation it is not necessary for us to have a number of people in prisons... we should allow them to return to their families," he said.
Mr Rafsanjani also appealed for an open debate on radio and TV about the disputed 12 June election and called for media restrictions to be eased.
"It is not necessary to pressure media. We should allow them to work freely within the law," he said.

There are also indications that Mir Houssein Moussavi was in attendance at the speech.

Labels: election, free speech, Iran, vote
posted at 7:36 AM


Former President Ali Akbar Hashemi Rafsanjani spoke from Tehran University this morning. The Moussavi supporter's prayer sermon was carried on Iran state radio, while protests took place outside. Rasfanjani declared Iran to be in turmoil.
"I hope with this sermon we can pass through this period of hardships that can be called a crisis," said the influential cleric, leading prayers for the first time since the election.
The Reuters article also talked about the demonstrations outside.
"Police fired tear gas and beat supporters of Mousavi in Keshavarz Boulevard," a witness said, adding that protesters were carrying hundreds of green banners -- Mousavi's campaign color -- and chanting 'Ahmadinejad, resign, resign'."
It doesn't sound like this particular Friday is going to be a day of quiet reflection in Iran.
Labels: brutality, election, free speech, Iran, vote
posted at 7:26 AM

0 comments


Wednesday, July 15, 2009
This guy is supposed to be smart?
Last week, Newt Gingrich was interviewed on Al Jazeera by Avi Lewis. Among the other brilliant nuggets to drip from the Faucet Of Genius that is the former House Speaker's mouth, was his assertion that we ought to take out Iran's oil refineries.
Lewis said that Gingrich was on the record as wanting to bomb these facilities. "The Professor" was quick to correct him.
See? Not bombing.
Sabotage
. What are you? Stupid? We don't have to blow these facilities up, we can just sabotage them. Perhaps we can find a way to put sugar into the enormous gasoline storage tanks. Sabotage! Gingrich would like you to believe how simple it would be, as he states that Iran only has one gasoline refinery in the country. My understanding is that there are at least nine of them in Iran.
The best part is that Lewis actually laughs at Gingrich twice during the interview. The ideas are so patently stupid, that when anyone but Newt says them out loud, it is pretty much impossible to keep a straight face. All this is aside from the fact that Gingrich figures the best way to go about making his brilliant plan come to fruition is by talking about it on television.
Newt Gingrich is a man who has gotten far too much credit for far too long in regard to his intellect. People think he's bright because he has an idea every 10 minutes, but most of them are completely worthless. It is quite easy to see how someone like Sarah Palin can still be taken seriously as a force in Conservative politics when the smartest guy on the team operates like a 9-year old boy with ADD.
Furthermore, "Sabotage Iran's refineries" isn't nearly as catchy as "Bomb, bomb Iran." Marketing, man!
Labels: Iran, Newt Gingrich, Sarah Palin
posted at 7:15 AM

0 comments


Tuesday, July 14, 2009
Iran's sky stolen by clerics
Iran's State Security Forces are confiscating satellite dishes in Tehran, according to iranfocus.com. The dishes were first banned in 1995, but the government has stepped up patrols in the past few days.
The patrols are nothing new, although according to most things I've read, the government looks the other way most of the time, but given the need to restrict the flow of information in and out of Iran, the confiscations are back, full-speed ahead.
On Tuesday, the government executed 13 Sunnis at a prison in Zahedan. They were allegedly members of Jundallah, which the Iranian government considers a terrorist group, and on who it blames for the deaths of hundreds of Iranian civilians and soldiers.
It's 0900 in Iran, we shall see what the day brings.
Labels: election, free speech, Iran, vote
posted at 9:16 PM

3 comments


Thursday, July 09, 2009

This is video from a protest that took place in London today, ostensibly in support of the opposition marchers in Iran.
Can someone explain why the so many of the flags you see in the video are the old Shah-era royalist versions?
This just seems completely out of place.
Labels: election, free speech, Iran, vote
posted at 4:23 PM

More video footage of protesters passing a trash bin on fire, and chanting:
More video here of today's events from street level. They are far more intense from this more personal perspective.
It's almost 0230 there now, but footage and news are still trickling out.
Labels: brutality, election, free speech, Iran, vote
posted at 2:53 PM

Update about earlier video
I had written earlier that in this video, demonstrators were chanting "Death to Khameini's son!" Mojtaba Khameini is the son of Supreme Leader Ayatollah Khameini, and he is also head of the Basij militia who have been at the lead in committing crimes against the Iranian people.
Apparently, the actual translation is more elaborate:
"Mojtaba, we hope you die before you get the supreme leadership!"
One of these days, I gotta learn Farsi.
Labels: election, free speech, Iran, vote
posted at 2:37 PM

Uploaded to youtube, and supposedly shot at 1823 local time in Tehran. The video shows Iranians being tear-gassed by security forces.
The video appears to jibe well with other video that was newly uploaded earlier today.
Labels: brutality, election, free speech, Iran, vote
posted at 2:26 PM

"Brave Iranians back us up!"
Fresh video of a protest outside of the University of Tehran on Kooye Danshegah (University Street).
This is the area where a student uprising took place on this date in 1999.
More video in a few minutes.
Labels: election, free speech, Iran, vote
posted at 2:20 PM

One 26 year old engineering student said: "tell the world what is happening here. This is our revolution. We will not give up." Asked what he wanted he said "We want democracy." Men and women are in the streets, but young men are mostly in the side alleys where it's hard to see amidst the trash fires. They're now throwing rocks at riot police who are coming back and forth. One young man rushes out in front of the other throws a rock then raises his hands to the crowd cheering. The police are desperately trying to contain crowds by shooting tear gas.


Crowd keeps coming back — there's one bus full of people that's inching along and everyone on board is chanting.

Saw two men carrying a huge floral arrangement of yellow and purple flowers on green leaves above their heads in commemoration of those killed in the last month and 1999. Someone beside me said: "They're risking their lives to do that. The police will not be afraid to kill them for that."
Later, from the same person:

The hotel gave me a taxi driver who's apparently friends with the Basij and we drove around to all the main squares — Valiasar, Fatemi, Azad Abadi, Vanak, Enqelab. Seems the protests have been completely crushed around 9pm. There's very little foot traffic but main corridors jammed with cars. Hundreds of Republican Guards and Basij at Enqelab, Valiasar and Vanak. At Vanak soldiers every 5 feet around the roundabout. Lots of Basij motorcycle gangs (15-25 in each) swerving around the cars. Some had their helmets off and were waving their batons in the air in victory. Hundreds of Basij have set up camp in Laleh park, which seems to be pretty close to the epicenter. Some fires still burning.
The people, who have bravely protested the electoral injustice, are now becoming even braver. You see that the utterly sensible fear that they have been battling, appears to be under control. The crowds may have moved beyond their own fear of jail, torture and even death.
The toothpaste of democracy is not going back in to the tube.
Labels: brutality, election, free speech, Iran, vote
posted at 2:11 PM

Protest video, Thursday afternoon
The first video shows people in Tehran, unified in the streets:
The second video shows security forces en masse clearing people out, and breaking up the impromptu rallies:
Al Jazeera/English gives a history lesson on why the protests may have happened on today's date.
I wonder what the protests will look like in 2019, should Khameini manage to retain control? Hopefully, they will be more like the Independence Day parades we have in the US on July 4th, and they will be celebrations.
Labels: brutality, election, free speech, Iran, vote
posted at 12:26 PM

New protest photos, 9 July
The website gooya news has published pictures from today's events in Tehran.
Can anyone translate what his sign says?
Labels: election, free speech, Iran, vote
posted at 12:06 PM

Iranian police fired into the air
According to a report from Reuters, riot police fired in the air to disperse pro-reform demonstrators in central Tehran today. One witness said,
"Police are shooting in the air and they have arrested several people."
Police detained several people among hundreds of protesters who turned up near Tehran University in defiance of a ban on gatherings for the anniversary of violent student demonstrations in 1999, the witness told Reuters. Another witness said police also used tear gas.
Another witness at the scene in downtown Tehran said: "Police used tear gas twice to disperse the crowd. There were also many Basij militia on motorbikes patrolling the area."
Labels: election, free speech, Iran, vote
posted at 11:56 AM

"The sense is that this is the beginning of the end."
Part of a phone call from a witness in Tehran, talking to someone in the US, and posted online:
"Just off the phone with Teheran with several people who were out on the streets. One of them is an Iran/Iraq war veteran from the volunteer forces. People are out all over the city, there is not a single march, but protesters gather in groups of 200-300, and do not move when attacked. The basijis are trying to prevent large groups to form, but people are not forming such large groups, however there is so much protest that it cannot be contained.

Until my contacts had returned home there was no shooting, but lots of tear gas. They marched in Karegar, Vali Asr, and tried to get to Teheran University. People of all ages are out, but the young are more present. All the garbage cans in major streets are on fire. People are honking their horns. The sense is that this is the beginning of the end.

The regime assumed that with Khameni's speech last week forgiving the protesters, and arresting all the reporters and heads of reformist movement, the issue of unrest was resolved. Today's marches and protests are not supported by Mousavi, Khatami, and Karoubi. It is a grassroot uprising meant to let the Islamic regime know the people will not be silenced. Twitter has unconfirmed reports of growing protests in Mashad at the shrine of Imam Reza with the participation of the clerics. There are also reports of police firing on the plainclothes tugs, but these are all unconfirmed."
This is going to be how it happens, loud protest, followed by periods of quiet to lull the authorities to sleep, then demonstrations again, until the regime falls.
Labels: brutality, election, free speech, Iran, vote
posted at 11:13 AM

"Death to Khameini's son!"
Can anyone verify that protesters are chanting this? Mojtaba Khameini, son of the Supreme Leader, is also in charge of the Basij militia.
Is there any place in the world where nepotism isn't a fact?
Labels: election, free speech, Iran, vote
posted at 10:37 AM

More footage from Tehran today.
Labels: election, free speech, Iran, vote
posted at 10:11 AM

The New York Times

is reporting that it has received two emails from inside Iran in the past two hours.
The phones are completely out. I'm hiding in an international hotel…. riot police wanted to break in but the managers convinced them. The crowd is running in the thousands, starting in Enqelab where riot police and basij started beating people. Saw one middle-age woman with blood stains. Then they pushed up kargar st to laleh park, squads of 25 police would run up the streets with batons beating people. I hid in a clock shop, like many other people who would hide in street shops and come out once these attack squads went up the streets.

Fires of trash are burning in main streets. Everyone honking, women and men of all ages out, even kids in cars (most families have driven their cars and blocked the streets). No phone so hoping there will be internet later. One 55-year-old housewife said to me proudly "This is Iran. We are all together," in front of Fatemi street where the crowd stretches as far as the eye can see, but again crowd is moving because riot police is moving as well as the basij on motorcycles. Lots of people chanting "Down with Dictator!" and "Moussavi! Moussavi!" and "God is Almighty."
A second email:

The crowds are too huge to contain. Riot police running up and down Fatemi Street beating people, barely got out of the way. The crowds just get out of their way and come back. Saw two undercover Basij, one was actually a late 40s businessman in a suit, whipped out a collapsible metal baton and started beating someone with a camera. He was beaten until the baton broke, another Basij came on motorcycle to help but crowds started surging and booed them away. Someone threw a water bottle but otherwise crowd is peaceful — keep chanting "Please Stop!" and chased the two Basij away.

Then riot police came back up. More fires in the street as trash and various containers are burned. Tear gas everywhere, no gunshots yet I think but again undercover Basij everywhere. Again I stress crowds in thousands and this is just one street. One 27-year guy in black shirt said "We don't want war. We just want freedoms. Here, [he signals getting shot] no matter. Down with the dictator," and people joining in the chant. Also [chanting] "God is Great!"

The main theme is that people are surprisingly non-violent. They seem very hopeful and energetic. People from all levels of society are out. No one is throwing rocks but people have been setting fires in the street.
Labels: brutality, election, free speech, Iran, vote
posted at 9:54 AM

The following video was, to the best of my knowledge, shot in Tehran today.
The first two show heavy security presence in Tehran:
Some more video from the protests, again, believed to have been shot today.
Again, I cannot verify that these were filmed today, but I haven't seen anything that leads me to believe otherwise.
Labels: brutality, election, free speech, Iran, vote
posted at 9:44 AM